Sweet Orange Essential Oil 10ml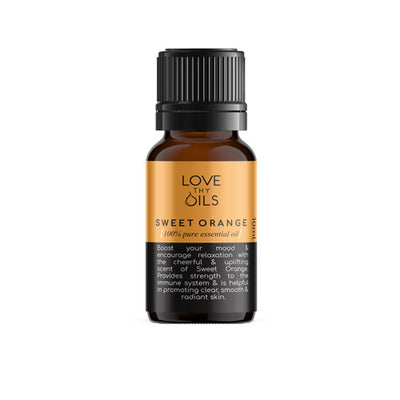 Sweet Orange Essential Oil 10ml
Sweet Orange essential oil is a fresh, cheerful and enlivening essential oil WITH the ability to both uplift and calm oneself.
A popular alternative to Lavender in relaxation and sleep blends for its ability to clear the mind and allow one to experience a deep sense of relaxation.
Use
Diffuse:  Add 4-6 drops of oil to a diffuser 1/2 hour before bed to create a relaxing space.  Combine with Grapefruit & Lemongrass for a fresh, uplifting day time blend.
Body:
Combine 2 drops of Sweet Orange, 2 drops of Frankincense & 2 drops of Lavender in 10mls of carrier oil for a soothing massage blend.
Digestion:
Sweet Orange has been shown to aid conditions such as cramps, bloating, constipation & diarrhea.  Blend with a carrier oil and massage into your stomach.
Ingredients:
Citrus sinensis
Country of Origin:
Brazil
Sweet Orange
I love the smell of it and have already started using it at home and at work. My only issue us that the smell is not that strong inmy diffuser.
One of my faves. It can make any room smell fresh. Not too overpowering either. I personally like this and jasmine in a roller as perfume. Amazing!
Good price
A true orange oil at a very affordable price.
AMAZING Product..💜
I have been using these oils for a good couple of months now and I am so happy with them. 🥰🤩🥰