Immunity Essential Oil Blend 10ml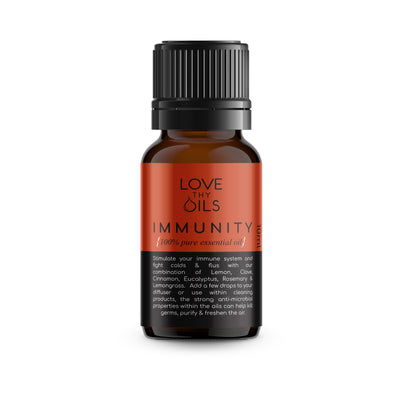 Immunity Essential Oil Blend 10ml
Based on the historic tale of the 4 thieves, our Immunity essential oil blend is a rich and spicy combination of Clove, Cinnamon, Lemon, Eucalyptus, & Rosemary rounded off with a splash of Lemongrass for added freshness.

An anti-bacterial, anti-microbial, anti-fungal & anti-viral powerhouse this blend can help protect you against colds & flus and provides overall support to your immune system when you need it most.
To Use:
Due to the high risk of skin sensitivity with many of the oils in this blend, we recommend this as a diffuser blend.

Diffuser:
Add 4-5 drops of Immunity blend to your diffuser to clean and freshen the air.

Cleaning:
The anti-microbial strength of this blend make it a perfect addition to your DIY cleaning sprays.  Add 15-20 drops to a 250ml spray bottle of vinegar or water/vinegar combination.

Topical:
Should you chose to use this oil topically, we suggest no more than a 2% dilution - 4 drops per 10ml of carrier oil.  For children over the age of 3 no more than .5% - 1 drop per 10ml carrier. 
Not recommended for use around cats or dogs due to the clove oil.
Ingredients:
Syzygium aromaticum (Clove Bud)
Cinnamomum Zeylanicum Leaf Oil (Cinnamon Leaf)
Citrus limon (Lemon) 
Eucalyptus Radiata (Eucalyptus)
Rosmarinus officinalis (Rosemary)
Cymbopogon Flexuosus Oil (Lemongrass)
Stunning oil
I put some of this oil into my hot water to clean the bathroom. Cleansing and protective 🙏🏼
Immunity oil blend
Love love love the immunity oil blend especially in winter, helps keep the bugs away and smells great in the meantime. It's a winner from me and my family.
Absolutely love these oils ❤️
I have been using these oils for a good couple of months now and I am so happy with them. 🥰🤩🥰
Immunity Essential Oil Blend 10ml
Awesome
Fantastic service, amazing oils and fast response to messages.