Jojoba Carrier Oil 100ml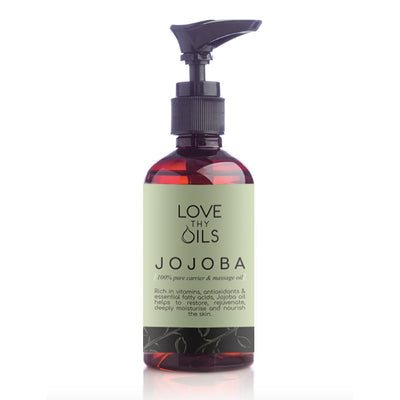 Jojoba Carrier Oil 100ml
Rich in vitamins, essential fatty acids and antioxidants, Jojoba oil is a non-greasy, easily absorbed liquid carrier oil.  It's properties are as close to human sebum (the oil our skin naturally produces) as possible making it perfect for balancing all skin types. 
Apply daily to help to restore, deeply moisturise and nourish the skin.  
To use:
Add 6 drops of essential oil to 10ml of Jojoba oil for a 3% dilution. 
Try Frankincense, Lavender & Geranium for a clarifying & soothing serum.
Blend with your favourite essential oils for a nourishing massage blend.
Try Kunzea, Copaiba & Frankincense to ease aches and pains.
Lavender & Ylang Ylang for a relaxing massage or
Sweet Dreams for a pre-bed massage.   

Ingredients: Simmondsia Chinensis Seed (Jojoba) Oil Cold Pressed
Origin:  USA
Perfect carrier
I'm adding this to my perfume blends I make. It's wonderful and top quality
Jojoba carrier oil
Have not had the oportunity to try it yet
Love Jojoba oil for hair and face. This is a lovely oil
Lovely quality oil. Fair price. Great customer service. I wouldn't buy this again only because it dispenses too much when I usually only want a small drop so I'm ripping through it at 3 times the speed.
Love using this with my oils especially my glow oil. My skin is so hydrated and lovely.