Pink Grapefruit Essential Oil 10ml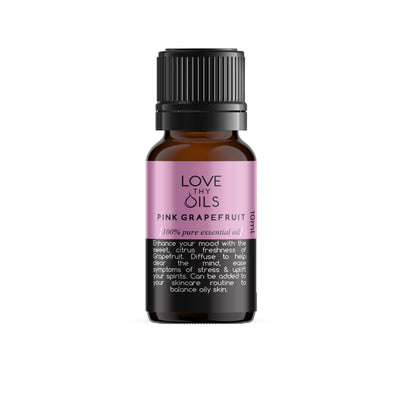 Pink Grapefruit Essential Oil 10ml
Enhance your mood with the sweet, citrus freshness of Pink Grapefruit.  
Diffuse to help clear the mind, uplift the spirits and ease stress and tension.
Uses: 

Skincare: Assists in balancing oily skin.

Mind: Promote clarity and focus, uplift mood and increase energy.

Body:  Add to a massage blend to assist with detoxification, cellulite & fluid retention.

Ingredients: 
Citrus paradisi 100% pure oil. 

Country Of Origin:  Italy

Safe For Children:  Yes

Safe For Pregnancy & Breastfeeding:  Yes
Safety:  Apply topically to a maximum of 4%.  Avoid direct sunlight exposure.
Pink Grapefruit
I love the smell of it and have already started using it at home and at work. My only issue is that the scent is not that strong in diffuser.
Pink Grapefruit Essential Oil 10ml
Gorgeous
I just love this oil. Like all Love thy oils they are made with high quality ingredients. Highly recommend.
Definitely a favourite oil, I love the uplifting fragrance and aroma, it is always fresh and puts me in a great mood