Lavender Essential Oil 10ml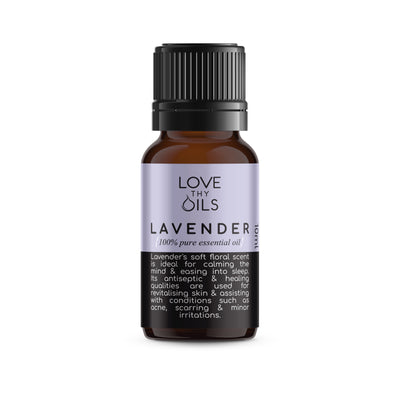 Lavender Essential Oil 10ml
Melt away the stresses of the world and escape to a place of sweet relaxation with the world's most well-known essential oil. The perfect choice for every collection, Lavender Essential oil is a great starting point for those discovering the life-changing power of nature.
Lavender Essential Oil gently calms the spirit and promotes relaxation and healing. Well known for its use in aiding sleep and relaxation, Lavender also eases irritability, nervous tension and the effects of stress.
A soft floral scent and the ability to calm the mind aren't the only benefits of lavender. With antiseptic properties, Lavender Essential Oil is widely used for treating eczema, acne, scarring and even hair loss and minor skin irritations. Having been found to reduce pain, and assist with respiratory problems, another wonderful benefit of lavender is the safety of use for the entire family including children and the elderly.
Uses:

Skincare: Treat minor irritation, bites and wounds.

Mind: Assists with stress, sleep and relaxation.

Body: Promote sleep, reduce tension, and assist with muscular aches and pains.

Ingredients:
Lavender (Lavandula angustifolia) 100% pure oil.

Origin: Bulgaria

Safe For Children:  Yes

Safe For Pregnancy & Breastfeeding:  Yes
Amazing !
I love this lavender and use it as bed spray, bug bites, in my diffuser and body products I make. The smell is Devine
Love them all
The best oils by far, the blends are beautiful and love the benefits 😍
Love this oil, I mix with fractionated coconut oil and it really helps with sleep, relaxing, and even skin issues!
Thank you! 🖤