Carry-On 30 Bottle Essential Oil Storage Carry Case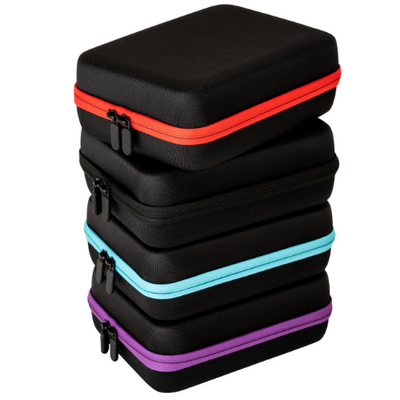 Carry-On 30 Bottle Essential Oil Storage Carry Case
The ultimate travel companion for your essential oils.  This hard case keeps 30 essential oil bottles up to 15ml completely secure.  The foam padding ensures each bottle is held snug and won't move.

Features a back pocket to store extra goodies like roller bottles, recipe cards or your favourite diffuser jewellery and a carry handle to make travelling with oils a breeze!
Great product
Carting my essential oils around is so much easier with my oil storage case. The oils are well cushioned and the case is zipped up so there is no movement.
Best way to store your oils
This case is perfect! Great quality and size. A great way to keep all your oils together in one place.Arrived pretty quick too! Very happy with my purchase.
30 Bottle EO bag
I LOVE it. Most of my oils in a safe transporable holder. I can take it wherever I go🌟🌟🌟🌟🌟
Carry-On 30 Bottle Essential Oil Storage Carry Case
This case is fantastic. Highly recommended.