Focus Essential Oil Blend 10ml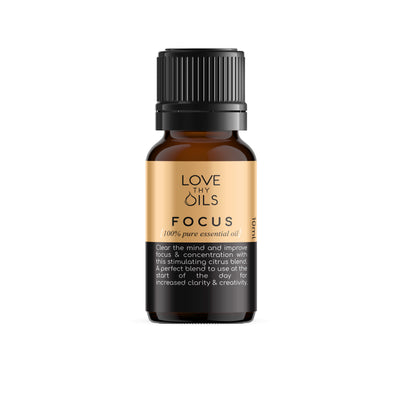 Focus Essential Oil Blend 10ml
Clear the mind and improve focus & concentration with this stimulating citrus blend.  An invigorating combination of Grapefruit, Bergamot, Basil & Lemon to help bring about a centred and balanced approach to your day.
To Use:
Diffuser: Working on a big project or looking for a splash of creativity? Add a few drops of our Focus blend to a diffuser to replenish your energy. The citrusy aroma will bring you a feeling of long-lasting motivation. 
Body: Mix six drops in a 10ml roller bottle topped with a carrier oil and apply our magical blend to your wrists or behind your ears. This simple trick will give you long-lasting energy to tackle whatever project you are working on.

Ingredients: Citrus Paradisi (Grapefruit), Citrus Bergamia (Bergamot), Ocimum Basilicum Oil (Basil), Citrus Limon (Lemon)


Good service
Good prices, true essential oils and good customer service have me coming back each time . Nice blend with that touch of basil and lemon.
LOVE ❤️
I have been using these oils for a good couple of months now and I am so happy with them. 🥰🤩🥰
Wendy
This is a fabulous blend for when I need to get jobs done . Add some music and it's a perfect environment for accomplishing tasks
My favourite
FOCUS is definitely my favourite. Reminds me of when I worked in a day spa. Love it
Totally Recommend Focus
Gentle but powerful, perfect for when feeling overwhelmed with " to do lists, study & busy" I love this blend