Spearmint Essential Oil 10ml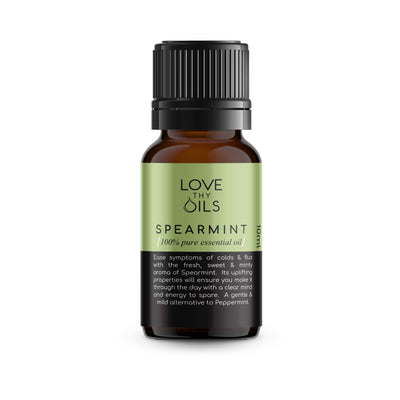 Spearmint Essential Oil 10ml
Ease symptoms of colds & flu with the fresh, sweet & minty aroma of Spearmint.  From the same family as Peppermint, however far more gentle and safe for the entire family to use.
Spearmint oil is known to be stimulating to the mind whilst helping to relive nervous tension, stress & irritability.  Combine with oils such as Lavender, Bergamot, Lime, Neroli or Sweet Orange to bring you back to a state of peace and harmony.
Uses:
Skincare:  A great addition to your skincare routine for those suffering acne, dermatitis & congested skin.  Use at a maximum of 1.7% dilution in skincare (1-2 drops per 10ml carrier oil)
Digestive System:  Combine 2 drops of Spearmint oil with 10ml of carrier for a massage blend to ease digestive discomfort including flatulence, constipation, diarrhoea & nausea. 

Respiratory System: Spearmint essential oil is an effective expectorant.  Diffuse to assist with respiratory conditions and sinus congestion. 
Safe for Children: Yes
Safe for Pregnancy & Breastfeeding: Yes   
*Although considered non-irritating, Spearmint should be used topically at a maximum of 1.7% dilution. (1-2 drops per 10ml carrier)*  

Ingredients:  Mentha spicatia
Country Of Origin:  India
Refreshing
Very refreshing and sweet. I love it.
My spearmint oil had leaked and packing paper was wet even though the seal was not broken and not much oil wasted
A true spearmint
A good clean spearmint. Really lifts my spirits love it.
Minty Fresh!!
Such a lovely clean sweet spearmint scent! Arrived so quickly!