Cinnamon Bark Essential Oil 10ml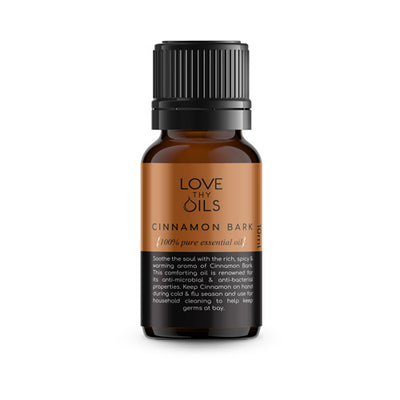 Cinnamon Bark Essential Oil 10ml
Soothe the soul, calm the mind and come back to the present moment with the rich, spicy & warming aroma of Cinnamon Bark essential oil.
This comforting oil is renowned for its germ fighting properties, in-fact it's considered one of the most powerful anti-microbials of all the essential oils.  Effective in fighting colds, flus & bacteria.
Uses:
Diffusing: Add 4 drops of Cinnamon Bark to a 200ml diffuser to purify the air and create a calm, warming environment.

Topical:  Due to a high potential to cause irritation & sensitisation, it is not recommended to apply this oil topically.  If you do chose to do so, please do so at a very low dilution of 1 drop per 30ml of carrier. 
Cleaning: Add Cinnamon Bark to your DIY cleaning products to help fight germs and leave your surfaces clean and fresh.
Safe for kids: Yes (diffused only)
Safe for pregnancy:  No.  Cinnamon Bark essential oil can be embryotoxic.  It is best avoided if you are pregnant or trying to conceive. 
Other Safety Notes:  Avoid use around cats & dogs
Ingredients: Cinnamomum Zeylanicum Bark Oil
Country of Origin: India
Terrible and toxic
Totally ruined my diffuser there is hardly any scent, I've reached out requesting for refund after being bombarded with emails since signing up they've gone quiet... still requesting refund thank you!!! And a replacement diffuser
Spring cold
I have just come down with a spring cold. Furst illness in years,
Im using a blend including Cinnamon oil to relieve congestion.
Working beautifully.
.
Cinnamon Bark Essential Oil 10ml
A Sweet spicy woody smell. A great oil with many different benefits
Quality product can't complain will order again