Frankincense Essential Oil 10ml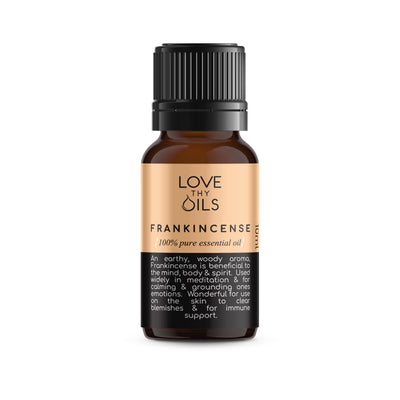 Frankincense Essential Oil 10ml
Support your mind, body and spirit with the earthy wonder of Frankincense Essential Oil. Not only does Frankincense offer a woody aroma, with hints of spice and fruit to bring aromatic joy into the home; the benefits reach far beyond the gorgeous fragrance.

Frankincense is widely used to promote calming, focused meditation, reduce stress, assist with anxiety and clear busy minds to help promote focus. Frankincense is also great for balancing dry or oily skin, support immunity, reducing inflammation, easing skin irritation, calming blemishes, relieving symptoms of congestion, coughs and respiratory conditions, and the list goes on.
Thanks to the abundance of uses and applications, we recommend Frankincense Essential Oil as a wonderful must-have choice for our customers who aren't quite sure where to start with their oil collection. Of course our experienced essential oil customers will always keep Frankincense on hand, of that we have no doubt.

Uses:

Skincare: Balance skin, reduce fine lines, and treat blemishes, scars & minor wounds.

Mind: Promote clarity and focus, reduce stress and nervous tension, and promote calm meditation.

Body: Immune support, reducing respiratory symptoms, and boosting the immune system against cold and flu.

Ingredients:
Boswellia serrata 100% pure oil. Sourced from India

Safe For Children: Yes

Safe For Pregnancy & Breastfeeding: Yes
We are not 3 Kings - what a treasure
Love the woody scent. It is lovely when combined with the warmth of Cinnamon Bark Oil
Skin Cancer Gone
After applying Frankincense with
Coconut oil every day on the backs of my hands,.my several little skin cancers have disappeared My doctor smiled and said make a new appointment for next month for a 'freeze' if it's still there.!!!
I don't need that appointment!!😊
I love thy oils!!!!
Frankincense everyone should have!!
The smell is amazing I use mine in moisturizer and the vaporiser and on my body it's a must have not to mention the service is quick love dealing with you guys thanks so much will continue to shop through you guys 🥰🥰 thankyou
Gorgeous oil
This is a high quality product and can be used for many things
Love thy oils LTO has a vast array of quality products. They are hassle free shipping and excellent service when you have any questions. This alone sets them apart from the other suppliers. I have relearned much and I love this oil
No regrets
Recently purchased Frankincense Essential Oil and I loved it. The smell is magical. It's more of a woody smell so this oil is perfect for the whole room. I only wish the smell linger longer otherwise it's divine.