Peppermint Essential Oil 10ml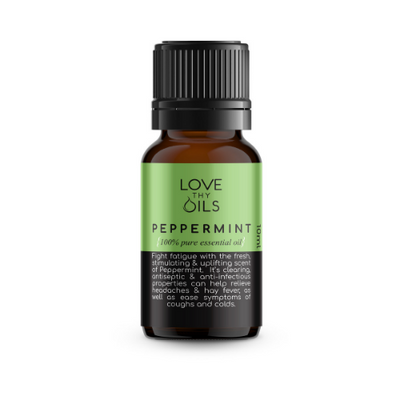 Peppermint Essential Oil 10ml
The fatigue fighting, fresh, stimulating and uplifting scent of Peppermint needs no introduction.
A winter must-have for its antiseptic, anti-microbial, anti-viral & anti-infection properties to help ease symptoms of coughs and colds and rid the home of winter germs.
Also used to help relieve pain associated with tension headaches & migraines and muscle aches and pains.
Uses: 

Skincare: Use for bacterial & viral infections.   

Mind: Fight fatigue, increase concentration & focus.

Body:  Support the digestive system and ease symptoms of vausea, vomiting and stomach pains.

Ingredients: 
Piperita Mentha
Country of Origin: Australia

Safe For Children:  Yes - recommended ages 3 & above. 

Safe For Pregnancy & Breastfeeding:  Yes (may cause reduced milk supply in some Women)
So fresh :-)
I just ordered another bottle of peppermint recently as it's normally one of my first to go to. I use a few drops on a tissue for Miss 9 or myself to breathe in to help with congestion, or sprinkling a few drops on the shower floor before having a shower, with the mist of the hot water its like having your own personal sauna. Today I added a few drop on my fur babies bed to aid with cleaning and no more doggy smells.
I love these oils
I love these oils. Great quality, at great prices thank you
Oh goodness !!
I should have buy this earlier, I'm not only like it..I'm falling in love with it…i mixed it with every blend I did !
I buy this simply to keep ants, cockroaches etc away. It's a great deterrent and way better than nasty chemical sprays.😁
Love peppermint everything so this oil ticks all my boxes